News
Subscribe to posts
The Phillipston Congregational Church on the Common in Phillipston, MA is sponsoring the 4th Annual "Holly Berry Fair" and "Visiting with Santa" being held in the vestry of the church on Saturday, December 2nd from 9 a.m. to 3 p.m. Picture taking with Santa will be available.

An assortment of items will be available for purchase. Among the vendors are Christmas Attic Treasures, Jewelry, Candles, Holiday Sweets, Ladies Benevolent Society Handmade Crafts, Fudge & Candy, and lots more.

A fantastic luncheon is being prepared by the Phillipston Lion's Club including a variety of Soups, Sandwiches, Loaded Baked Potatoes, Whoopie Pies, Apple Crisp and Drinks. Bring your friends or meet them there to begin and/or finish up your Holiday Shopping with local vendors.

Come one, Come all to enjoy the holiday season and cheer!
The 38th Annual Pumpkin Weigh-In and Country Village Fair will be held again this year at The Red Apple Farm in Phillipston, MA on Saturday, October 7, 2017, from 11am to 3pm and Sunday, October 8, 2017 from 11am to 5pm. The rain date for Saturday, October 7th will be Monday, October 9th. The Giant Pumpkin Weigh-In will be held at 1 pm on Sunday. Anyone is welcome to enter, so bring your pumpkin over to the Red Apple Farm for registration between 11am and 1pm on Sunday, there is no registration fee. . Cash prizes will be awarded along with Ribbons in two divisions, Adult and Children. A special Luther Award will be awarded for the smallest pumpkin. This event is the oldest continuous Pumpkin Weigh-In in New England with a search for the largest pumpkin. The Pumpkin Weigh-In, is being hosted by the Phillipston Agricultural Commission. This year another classification will be any pumpkin, big, small, ugly, funny colored or what have you with ribbons given out for these different special pumpkins being judged by the Agricultural Commission. A Church Service, open to all will be held at 10am on Sunday, October 8th at 10 am. Come join us for this wonderful outdoor service.
Come to our Country Village Fair, children's activities will be located to the left, take the path by the rabbit pen and see what you can find to play and enjoy. One of the activities will be small pumpkins for the children to paint and/or decorate and take home. There will be 2 wood raffles this year, one for a ton of pellets donated by a church member and the other being a pick up load of cord wood donated by Green Natural Resource Management. The drawing for these raffles will be on Sunday October 8th at 4 pm, make sure you buy your tickets. The annual Quilt Raffle, "Fairy Tales of Yore", made by one of the Ladies Benevolent society members, Barbara Sanden, will be drawn on Sunday October 8th at 4 pm. It will be on display and raffle tickets will be available to purchase.
Be sure to visit the Country Village area where there will be a Silent Auction with a drawing for each day, Vintage Jewelry, Slightly Read Books, Craft Items and the must have "Pumpkin Sweatshirt", get yours now, not many left. The Chuckwagon, located near the hay rides, will be serving Hamburgers, Cheeseburgers, Hot Dogs, Chili, Chili Dogs, Chili, Homemade delicious soups and drinks. Next to the Chuckwagon, is our famous bake table so you may buy goodies to take home or eat as your desert. Community Information booths, Petting Zoo, Cotton Candy & more will be located along the way.
Come join us for a fun filled time. For more information call 978-516-8061.
Calling all pie bakers!! 
Announcing a pie baking contest to be held at the Pumpkin Weigh-In and Village Fair being held at the Red Apple Farm on Saturday, October 7th and Sunday, October 8th. 
You can preregister until Friday, October 6th at noontime. Be sure and pre-register! There is no entry fee. 
Please understand that the pies will be used to fund an educational purpose, and will become property of the Phillipston Congregational Church. 
We will need your name, phone number, and ingredients list and allergen information. Also please print and tape the ingredients and allergen info to the bottom of the pie plate. 
Please note, we won't have a means of refrigeration, so cream pies can't be accepted. 
Judging will be done by the Phillipston Agricultural Commission and ribbons will be awarded by the Phillipston Congregational Church. Drop off time will be from 11 am to 1 pm with the Agricultural Commission. 
This contest is another friendly competition for the Fall Fair and the pies are going to be sold by the church, either by piece or auction, to fund a donation to a Narragansett agricultural group. For any questions, or to pre-register, please call and/or leave a message with Jack Seamon at 978-895-1452.
HISTORICAL SOCIETY OF PHILLIPSTON, INC
Presents
FAMILY DAY AT OUR NEW LOCATION! On Saturday, July 22nd
(rain date, Sunday, July 23rd)
Next to the Phillipston Fire Station
"NEW" The former Ward Poultry Farm's huge egg incubators
will be on display. Be sure to see it!
COME SEE THEM, HEAR THEM AND WATCH THEM RUN!!!!
Antique Tractors, Trucks, Cars, Engines & More!
Here on display by local antique motion enthusiast for the whole family!
IT'S A FREE DAY OF FUN FOR ALL THE FAMILY!
Hamburgs, Hot Dogs & other refreshments will be available for a fee.
For more information Call: 978-939-5656
IN ADDITION: WATCH ICE CREAM CHURN, Making Homemade
Ice Cream from 9 am til 12 noon, Serving Ice Cream All Day, Enjoy
Ice Cream the Old Fashioned Way
The 60th Annual Phillipston Village Bazaar will be held on and around the common on Saturday, June 10, 2017 beginning at 10 am and continuing until 7 pm.  The Bazaar is being sponsored by the Phillipston Congregational Church.
The doors of the Attic Treasures located in the Phillipston Memorial School Gym will open promptly at 10 am with a treasure for everyone.  Again this year, "Name Your Own Price" and see if we will agree with you, will be located near the entrance to the gym.
On the Common throughout the day, there will be a Coffee Can Auction, Jewelry Table, Book Sale, Plant Table, Bake Table and the Fantastic Midway!  Food will be offered for sale during the day at the "Chuck Wagon" including hot dogs, hamburgers, chili, ice cream and various beverages. Be sure and also check out the Vestry of the church where there will be a Silent Auction going on, a Fudge Table, a Quilt Raffle, Miscellaneous gifts and Vintage Clothing.  Old fashioned drinks will be served as well in the Vestry – Root Beer Floats & Grasshopper Floats.
Entertainment will begin at 4 pm, under the tent, lasting until 7 pm.  Enjoy a delicious Chicken Barbecue, which will be served continuously from 4:30 to 6:30, during the entertainment.  Tickets may be obtained by calling Peter at 978-697-0891.  Come enjoy the barbecue while listening to the enjoyable music of the Bavarian band being provided by the Massachusetts Cultural council of Phillipston. The extraordinary entertainment is being provided by the Holfbrauhaus Bavarian Band, brass woodwinds, accordion and drums.  Bavarian music is part of the Germanic culture stretching back to the first Oktoberfest in Munich 200 years ago.  The German ethnic community is the remains of the largest migrant group to the United States.  It is good for Americans of many backgrounds to understand this heritage which is intertwined with our culture for over 150 years.  This entertainment is being made available by the Massachusetts Cultural Council of Phillipston.
Come one, Come all and celebrate the beginning of summer with us.
The "Easter Great Gathering", a fun-filled family traditional event since 2011, is being held on Saturday, April 15, 2017 at Red Apple Farm, Phillipston, MA to benefit the Phillipston Congregational Church.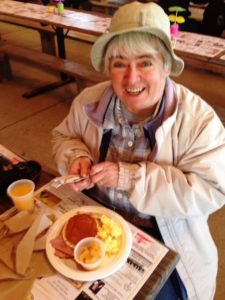 The 6th Annual Brunch with the Easter Bunny will be held in the barn including Ham, Eggs, Pancakes, Sausage, Home Fries, Toast, Fruit & Beverages being served continually between 8 am and 1 p Cafeteria style. Tickets are $10 for adults, $5 for kid's ages 3 to 10 and Seniors 65+. If you purchase your tickets in advance, you will save $1 each, for tickets call: (978) 939-8901 or (978) 249-7517.
Free Egg Hunts will be held for the children at 9, 10 and 11 am. There will be separate Toddler & Preschoolers' Hunts. The Teen Egg Hunt with prizes will be held at 12:30 pm. At "High Noon", an Adult Egg Hunt, with a limited number of tickets being sold, some of the prizes being a Chrome book, a Fit bit Charge 2 and many more exciting prizes. For the Adult Egg Hunt you must be 18 years or over and be present to participate. For advance tickets call (978) 939-5608.
There will be baby farm animals for the children to enjoy. Vendors will be in the store with many Holiday Favorites. There will be great gifts for the whole family including Fresh Cider, Donuts & Coffee, Easter Raffle Baskets, "Home Sweet Home of Yore" Quilt Raffle & Craft Items, Easter Flowers, Bunny Ears, Face Painting, Pictures with the Bunny, Cotton Candy, Honey Products and Hand-poured Soy Candles.

Back by popular request.
The Phillipston Historical Society will again sponsor a Fun Filled Evening on Friday, August 19, 2016 at The Red Apple Farm in Phillipston, MA at 7 pm featuring members of the Central Mass Accordion Club. The program, "Accordion Music Around the World" will certainly entertain you by learning a folk Dance, hearing some interesting stories and more. The Program is FREE and open to all ages. Refreshments will be served. Come join us for a fun-filled evening! We hope to see you there. For more information: please call 978-249-4356
May 18, 2016 at 6:30 P.M.
Vestry of Congregational Church

Everyone is invited to come to the annual meeting and potluck supper. It is always a time of good food and good fellowship and a time to catch up on the doings of the Society. The Society continues to move ahead and we soon hope to have the handicapped ramp in place so the Historical Society museum can once again be open to the public. We are especially proud to have an active Junior Historical Society that did a Lego block construction of our town's center as it was in the 1890's. This extraordinary accomplishment is on display at the Gardner Museum until the end of May. Besides learning about the present activities and plans for the future, the meeting will include election of officers for the coming year. Come and be a part of this important organization. Bring a main dish, salad, or dessert. If you can't come for supper, you're welcome to join us at 7:15 for the meeting.